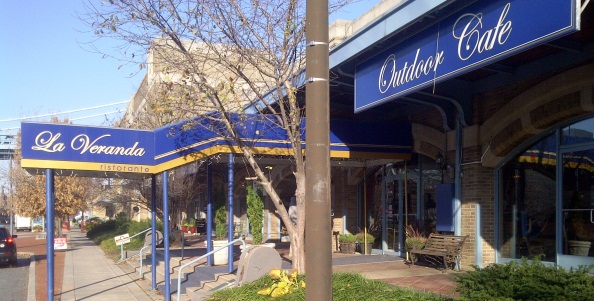 Ristorante La Veranda
31 N Columbus Blvd
Philadelphia
,
PA
19106
We were placed in a private room by ourselves - a group of about 35 - and the service was excellent. We had a round of appetizers that included proscuitto with melon, mozzarella and Parmesan cheese (the real stuff), various grilled vegetables (their house antipasti) and a great seafood antipasti with calamari and shrimp.
Then they served us a pasta course with a trio of pastas on a single plate: gnocchi with a wonderfully pungent Gorgonzola sauce, bow tie pasta with a rich lobster vodka cream-tomato sauce and penne with a spicy arribiata sauce. The Gorgonzola and arrabiata sauces were my favorites, with the lobster/vodka/cream/tomato sauce leaving a little something to be desired.
Being a large group, our entree choices were limited to filet mignon, grilled swordfish, chicken cacciatore, a salmon dish, and a grilled veal chop. Since most of the others I can easily make at home, I went with the grilled veal chop and it was a wise choice - it was nearly an inch and a half thick, included the t-bone and was perfectly cooked with a charred outside that complemented the tender inside and was enhanced by what I believe was a light marinade of Italian herbs. The marinade/herbs enhanced the flavor of the meat, giving it highlights, but didn't overpower it.
The dessert was standard issue cannoli, tortes and eclair puffs, though the eclairs were drizzled with a lovely dark chocolate glaze.
Again, I can only speak from my experience with a group, but based on that experience, I would give this place a shot for dinner with friends or family for some hearty Italian and grilled fare.