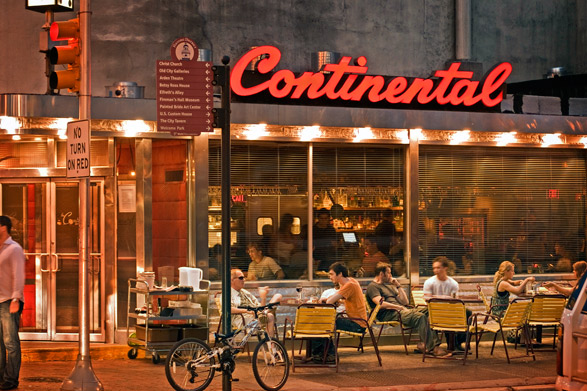 138 Market St
Philadelphia, PA 19106
Had dinner here with some friends recently. We were put in the back room/bar -- which I didn't even know existed. The decor was comfortably modern, though the predominance of stark white at the bar might overwhelm some.
Although we were the only group in the back room, the staff did not forget us (maybe because they had to pass through to get to/from some other sections of the restaurant) and service was good.
For food we got a smorgasbord of dishes, which allowed us to taste many different items. My favorite item was the chicken and broad noodles dish, which was just spicy enough and was lightened with a mix of lettuce (a lettuce better than standard-issue iceberg would certainly make it an even better dish). I was looking forward to the scallops, but like most of the rest of the dishes tried, they were good enough to have and enjoy, but not good enough to recommend as a must-try. Beer selection was adequate, but servings were smallish.
Overall, a totally fine spot for a bite and/or drink if you happen to be on the corner of 2nd and Market, but only worth the effort of getting there if you want some private space for a sizable group.